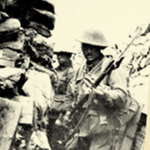 'Walking in the Footsteps of the Condah Anzacs' is a multimedia on-line education resource to help middle secondary students explore the Year 9 in depth study — World War I (1914-1918)
Students investigate key aspects of World War I and the Australian experience of the war, including the nature and significance of the war in world and Australian history.
Each and every community in Australia was asked to contribute to the war effort and In this unit you will investigate how the tiny community of Condah in the western district of Victoria responded. Forty one men enlisted, 15 of whom were Aboriginal men from the Lake Condah Mission Station.
Join Tim Gurry as he 'walks in the footsteps' of these brave men, tracing their wartime experiences both at home and on the Western Front.
You will then be able to use this knowledge, approach and structure to investigate the impact of World War 1 upon your own community and how this impact is commemorated today.
Watch the video online below or visit the case study page for more details.