Frequently Asked Question Topics:
---
Login Questions
How students and teachers log in?
Both students and teachers can login using your school login via the login button at the top of website. Enter your school username and password or use the Quick login link provided on sign up.
You can also apply to enable quick IP Login.
If you do not know your student login, login to your Account Dashboard to see your student login details. If you have a new account you will need to set this login up in your account.
How do we access account settings?
When you purchased your subscription you will have entered an email and password to create a new account. Use this login to access the Account Dashboard.
In the Account Dashboard (formally called Teacher Dashboard) you can access billing information and set the login for your teachers and students to access the AHM resources.
What is IP Login?
IP login allows for your school's network IP address to be saved to your account. Students can then login using the single-click quick IP login link without needing to remember usernames or passwords.
Please note: IP login is only available for logging in with your school account. It does not provide auto login for each CSI student profile.
How do I get IP address login?
To be eligible for quick IP login, your school must have a static IP address (a fixed IP address that doesn't change). Speak to your schools Network Administrator for this information. Then email us your IP address to ahm@ryebuck.com.au to request IP login.
Do you have login widgets we can add to our schools website?
Yes. We have handy login widgets that you can add to your schools website to allow for one-click logins. To access these widgets, log into your resource access page.
I've lost my username or password
You can reset your school access password via the account dashboard. If you cannot remember your account login, visit the Lost Password page or contact Ryebuck Media on ryebuck@ryebuck.com.au
---
School Account Questions
How soon can we access the website?
If you select to pay by credit card, you will have instant access. If you wish to pay via direct transfer, your account will be activated once the funds have cleared accounts.
Can my students have separate accounts?
The Primary and Secondary website subscriptions only require a single whole school login. No individual students accounts are required for these subscriptions.
The new Convicts, Settlers and Immigrants (CSI) program requires a whole school account which then allows your students to create individual profiles under your school's account.
Are subscriptions automatically renewed?
Yes. All annual subscriptions are automatically renewed.
You will be sent a reminder 30, 14 and 7 days before renewal. Credit card payments are automatically deducted. For payments via invoice, you will need to follow the instructions in the renewal emails to generate your renewal invoice for payment.
I paid via invoice. How do I renew my subscription?
You will be sent reminder email with links to renew your account. You can also log into your Account Dashboard and renew your subscription. These steps will generate you a new invoice that you can pay. We advise doing this before your subscription expires so you do not loose access.
Go to Account Dashboard.
Scroll down to 'your subscriptions' and select renew now.
Follow the prompts to submit your renewal request. This will take you through to the checkout where you can submit your renewal as a 'Pay via Invoice' order. You will then be emailed a new invoice to pay.

Can I disable automatic renewal?
Yes. Login to the Account Dashboard. Scroll down to the 'change auto-renewal status' link under your list of current subscriptions.

Select that link to view your subscription details and toggle the auto renewal status.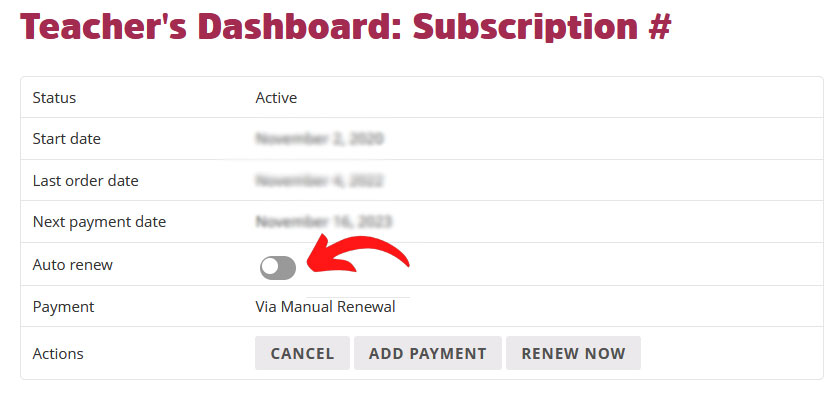 We want to change which staff member is the account holder. How do we do that?
Go to Account Dashboard.
Go to Account holder details.
Here you can change the account holders name, email and password.
The teacher who created the account has left the school. How do we get access to our account?
Contact Ryebuck Media via email on ryebuck@ryebuck.com.au and we will verify your information and change the primary account holder to reinstate access for you.
We have let our subscription lapse – what should we do?
Log into the Account Dashboard and next to your expired subscription you will see a "resubscribe" button. Or contact Ryebuck Media via email on ryebuck@ryebuck.com.au
We have multiple campuses – does this effect subscriptions?
Larger educational establishments such as Schools, TAFE Colleges, Universities and similar organisations made up of multiple schools, campuses and libraries are required to take out multiple subscriptions. Pay full price on the first and receive 20% off on every additional subscription.
I need technical support?
If you have technical enquiry please contact Ryebuck Media via email on ryebuck@ryebuck.com.au.
---
Content Questions
What aspects of the Australian Curriculum do the case studies cover?
Australian History Mysteries covers Australian Curriculum – History topics from Year 1 to Year 10. Read the Curriculum Relevance Guide for more details.
Can the case studies be used on an iPad?
The Primary and Secondary website can be viewed on iPads. See the primary and secondary case study list.
I need help with Convicts, Settlers and Immigrants (CSI) Program
We have a full set of FAQs and additional help information for the CSI program in CSI Help.
Does the video content work on iPads?
All of the case studies in the members area now work on iPads. When you login and go to a case study you will have the option to play videos on iPads and computers. You can view the videos full screen. You also have the option to download the videos.
What quality are the videos?
We recently updated our video to play through Vimeo to allow for adaptive streaming, which means that the playback quality is matched to the speed of your internet speed.
I can't view the videos – what format are they?
Our videos are embedded using the Vimeo platform. If you cannot see the videos, please check with your IT department that www.vimeo.com is not blocked.
If vimeo is blocked, you can still view the videos by using the Download video button under each video. This will play the video in a new tab from where you can play the video or choose to download by saving the MP4.
---
Convicts, Settlers and Immigrants (CSI) program related questions
I have an existing website subscription. How do I access the Convicts, Settlers and Immigrants (CSI) program?
All Primary, Secondary & P-12 schools have automatic access the CSI Program. Simply visit get each student to visit www.australianhistorymysteries.info/csi/register.php to set up their individual profile logins.
Can I get a CSI only subscription?
If you are a Primary, Secondary or P-12 school you have automatic access. If you just want to use the CSI Program only – you can subscribe for 1 class or the whole school. See the single product options page for more details.
Do I need a school account for CSI student profile logins?
Yes. Your school needs to be subscribed to an account that includes the CSI program. Once your school has an eligible account you students can then create their own profile to log into. See subscriptions for eligibility. Visit CSI Help for further information.
Why does each student need a login for the CSI program?
The CSI program allows for your students to save their work and continue working on it from any computer at any time. For this to work, each student will need to create a profile which they can log into.
Once a student has a unique login for CSI they can login directly to CSI in the future.
Is there an easy way for teachers to view all their students profiles?
YES! We have a handy teachers admin page for CSI. This tool is only available for teachers so please email us from your school email to request the link.