How to use the Convicts, Settlers & Immigrants program
CSI Access
CSI allows each user to create their own unique profile which allows you to save your work and return to it at any time.
To create each user's profile, you need to belong to a school or organisation with a valid Australian History Mysteries subscription. Please see subscriptions for more information on which subscriptions include CSI access or contact us for futher assistance.
How to Sign Up
Go to CSI Home Page and click "Create New Profile". This will take you to the Register Page.
Login with your school account.
NOTE: if you are already logged in as your school you will skip this step. See FAQs for quick login options.
You can now complete your details to create your own unique profile login.
How to Login
Once you have created your unique personal profile login, use this login on the CSI home page.
Do not use your school login on the CSI home page.
Introductory Classroom Unit
This HASS unit is a great way to start engaging students in their own family history research! The whole class can use a fictional family history approach to investigate aspects of the lives of Australians in the second half of the nineteenth century, and the early twentieth century. Students create an imaginary but realistic family that experiences a series of 20 key historical events. The students make choices for the family, and see what the consequences are.
The exciting part is when they take the next step, and apply the skills and approach they have been using for nineteenth century Australia to investigate their own families today, their place in modern Australian history and how key events may have impacted their own lives!
Researching your timeline
The Easy Steps To Help Discover Your Family History and Research Resources provide you with a guide on how to research your family history and helpful links and resources. A copy of these steps are below.
Creating your ancestry line
Start by creating your profile.
Use the add parent button to add parents to your ancestry line.
You can also add a spouse (or partner) to each person.
Exploring your ancestry line
Click on the orange dates on each persons timeline to see what Defining Moments in History occurred during their lifetime. You can also add your own personal events via the add Person icon.
Timeline Views
Defining Moments View: Shows your ancestry line with both the personal events you have added (on the green line) and the Defining Moments in History on the orange line
Lifespan View: Shows comparison of of the lifespan of each person in your ancestry line.
Existence View: Shows the lifespan of each person chronologically over time.
Submitting your timeline to your teacher
Click on the submit to my teacher link to send a link to your timeline to your teachers email address. The email will include a special link and password for accessing your timeline. This is a ready only view and your teacher will not be able to edit your timeline.
Easy Steps To Help Discover Your Family History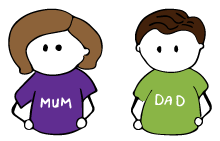 1 Start with what you know and start immediately
The best place to start is with the knowledge you already have. It's more than likely you at least know the names of your parents, and their parents – that's a start!
2 Speak to your relatives
Talk to parents, uncles, aunties, grandparents and any relatives you can – the older the better. Ask them all they know about their (your) family history. Even record them on camera or audio for later reference, and so their information isn't lost for future generations.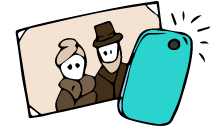 3 Take new photos of old family photos
When you're talking/interviewing a relative make sure you ask about old photos – then take photos of them on your phone or iPad. Photos are a great memory trigger. And that way you can show other relatives these photos which may trigger their memories.
4 Take notes from the beginning
Create note folders where you can jot down anything you come across that may prove vital down the track. It may not seem important at the time, but you will 'kick yourself' if you can't find that piece of information when you need it.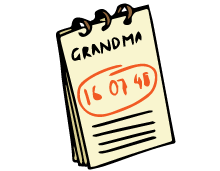 5 Focus on gaining one piece of information at a time
Sometimes it can be overwhelming when you begin your family history research. After all, you are living proof of a direct-line connection to the beginning of our species – that's a lot of ancestors! So decide on one piece of information that you want to know such as a birth date or the cemetery of burial. Now write down all of the details that may help you locate that piece of information.
• What do you already know?
• Who might have what you need?
• Then start your search for the one fact you have chosen to look for.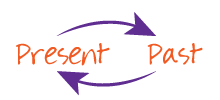 6 Work from 'present to past' and from 'past to present'
Sometimes you'll discover alleged or possible information of an ancestor which you're yet to make a direct connection with in your 'present to past' research. This is when you should try working in reverse. Going from 'past to present' will quite possibly open up evidence you would never have discovered had you stuck to your 'present to past' method.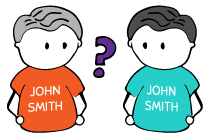 7 Beware of name coincidences
Just because your great great grandfather, 'John Smith', was born in England in 1893, doesn't mean the 'John Smith' you found in your search is your great great grandfather – even if he was born in England in 1893. If you search on Facebook you can be pretty much guaranteed that someone in the same city shares your name. It was the same back then. So make sure your evidence is sound before you conclude you've made a genuine ancestor connection.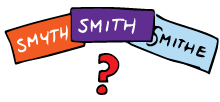 8 Search different spelling of names
If you start imagining all the possible ways your surname could be spelt, then chances are it has been spelt like that before – even on government documents. So always make sure you search for alternative spelling names.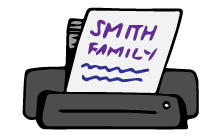 9 Always document your sources
Make sure you always download/print/screen-shot your evidence materials in their original presentation if possible, and then file them accordingly. These will be important to anyone who has an interest in your family history (i.e. your descendants and relatives). It will also serve as a reference for any mistakes you may make along the way.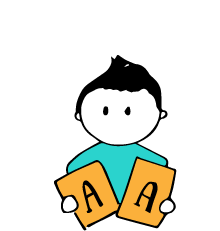 10 Don't accept family legend as fact
Whilst passed-down family stories hold vital clues and are important in piecing together your family history, you cannot discount that 'creative license' was once used in telling those stories. Be sure to carefully investigate the facts for yourself. If you are unable to prove or disprove a family legend you can still include it in a family history. Just be sure to explain what's true and what's false, and what's proven and what's unproven. And write down how you arrived at your conclusions.
11 Check and double check your evidence
Gather as many evidence sources as you can before you conclude your findings on a particular ancestor. A mistaken identity early in your research can send you off into a direction where you're doing research on someone else's family! So be thorough. It's not a race – it's a journey in time through the eyes of your forefathers and foremothers!
Research Resources
General hints, tips, resource and archive sites:
Online newspapers:
Trove: Is an online archive of Australian newspapers, books, journals and Gazettes among other reference material. It is a National Library of Australia initiative that is offered as a free resource search engine, and copies can be printed for free and with ease. http://trove.nla.gov.au
Newspapers.com: Is an online search reference that includes old archived newspapers from all around the world. It requires a paid subscription, but does offer a 7 day free trial period. https://www.newspapers.com
GoogleNewspapers: Is a great free resource for newspapers from all around the world. https://news.google.com/newspapers
Genealogy site links:
Family search: Is probably the most extensive (and free) genealogy site on the market. It's run by the Mormons who have made family history a priority project since 1894.https://familysearch.org
GenealogyInTime Magazine: offers an updated list of the 100 most popular genealogy websites. It includes free and paid sites. http://www.genealogyintime.com/articles/top-100-genealogy-websites-of-2016-page02.html
An important tip on genealogy websites: 
One of the traps of searching through genealogy websites is taking the information as absolute truth!
Often people make mistaken family connections, which then circulate within these sites. For example, one genealogy site member makes a mistaken family connection, then someone from another picks up that incorrect information and adds it to their family connections on another site, and so on.
So by all means use these sites as a reference tool, but make sure you're research is thorough and backed up with good evidence. And always be open to new information when it comes to light.