In this section we provide you with one complete case study from the Primary Resources and the Secondary Resources to give you a taste of the rich content, media and learning activities that are available in the member's subscription area.
Go to SUBSCRIBE to sign up for member's subscription content.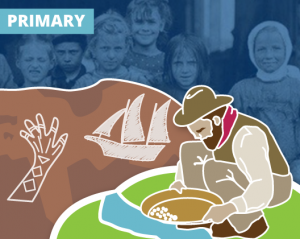 Who lived here first and how do we know?
PRIMARY SCHOOL CASE STUDY
Aboriginal people have lived in Australia for thousands of years. There were hundreds of different groups or tribes speaking many different languages. They lived in different parts of Australia – coastal, desert, flat plains and tropical areas.
The Aboriginal people used the landscape for everything – for food, clothing, shelter, tools, medicines and belief systems. But how can we find out what their lives were really like 40,000 years ago?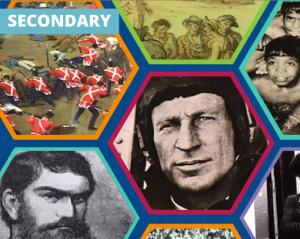 The Eureka Rebellion – could you have stopped it from happening?
SECONDARY SCHOOL CASE STUDY
Students take on the persona of the people involved in trying to make a living on the goldfields and deciding whether to be involved in the Eureka Rebellion. They have to make crucial decisions. They are given choices and know that consequences will flow from their decisions. In this exercise students see that at every stage in the story there were alternatives that might have been available, but were, for whatever reason, not taken. It engages students with some key historical ideas — empathy, causation, values, motivation and consequences.