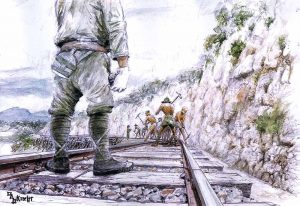 The sacrifice of Australian Prisoners of War (POWs) who worked on the Thai–Burma railway, including the notorious Hellfire Pass, almost 75 years ago, was remembered recently at a national service at the Australian Ex-Prisoners of War Memorial in Ballarat, Victoria.
Construction of the Thai–Burma railway began in October 1942, as the Japanese sought to maintain their armies in Burma. A workforce was assembled and by the time it was completed an estimated 270,000 Asian labourers and some 60,000 Allied POWs, including Australian, British, Dutch and American troops had worked on the line.
One of the most infamous sites along the Thai–Burma railway is Hellfire Pass, Tragically, more than 700 Australians died here.
You can explore their experience further in the interactive units we have produced at http://www.siredwarddunlop.org.au/education/primary-case-studies/