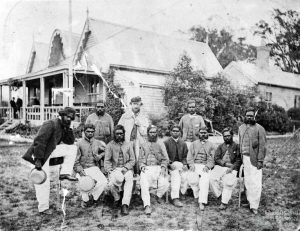 It was a privilege to attend a special dinner in Harrow Victoria to farewell members of the National Indigenous Cricket Team about to tour England. The dinner was hosted by Cricket Australia and West Wimmera Shire Council to celebrate the 150th anniversary of the First XI Tour of England in 1868.
The all-Aboriginal side was the first group of Australian sportspeople to travel overseas.
Altogether, the Aborigines played 47 matches throughout England over a period of six months, winning 14, losing 14 and drawing 19; a good result that surprised many at the time. The outstanding player was Johnny Mullagh who scored 1,698 runs and took 245 wickets. One English bowler said at the time – "I have never bowled to a better batsman."
In addition to playing cricket, the Aborigines frequently put on an exhibition of boomerang and spear throwing at the conclusion of a match. Dick-a-Dick would also hold a narrow parrying shield and invite people to throw cricket balls at him, which he warded off with the shield. The Aborigines were narrowly beaten in a cricket-ball-throwing competition by an emerging English all-rounder of star quality, 20-year-old W. G. Grace, who threw 118 yards.
Richard Kennedy – a Wtjoboluk traditional owner and descendent of Yangendyinyuk (Dick-a-Dick) was present at the farewell dinner and welcomed all to this special evening.
We wish the team safe travels and good luck on the playing fields of England.
To further explore the nature of contact with Aboriginal people and Torres Strait Islander People during the C19th go to the 'The nature of contact between Aboriginal people and Torres Strait Islander people' Case Study.