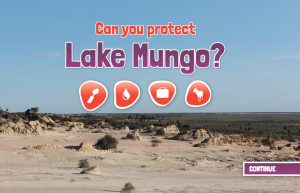 We've made planning your Australian history lessons easy with our rich online resources for Year 7 students. The Australian History Mysteries secondary website includes a range of interactive case studies that have been designed specifically around the Australian Curriculum: history as outlined below:
Year 7 Level Description
The ancient world
The Year 7 curriculum provides a study of history from the time of the earliest human communities to the end of the ancient period, approximately 60 000 BC (BCE) – c.650 AD (CE). It was a period defined by the development of cultural practices and organised societies. The study of the ancient world includes the discoveries (the remains of the past and what we know) and the mysteries (what we do not know) about this period of history, in a range of societies in places including Australia, Egypt, Greece, Rome, India and China.
The content provides opportunities to develop historical understanding through key concepts, including evidence, continuity and change, cause and effect, perspectives, empathy, significance and contestability. These concepts may be investigated within a particular historical context to facilitate an understanding of the past and to provide a focus for historical inquiries.
Key inquiry questions
A framework for developing students' historical knowledge, understanding and skills is provided by inquiry questions through the use and interpretation of sources. The key inquiry questions for Year 7 are:
How do we know about the ancient past?
Why and where did the earliest societies develop?
What emerged as the defining characteristics of ancient societies?
What have been the legacies of ancient societies?
The Australian History Mysteries case study – What are the mysteries of Lake Mungo? –  introduces students to the famous Lake Mungo archaeological site in southern NSW where  they can explore important issues about ancient Australian history. Some of these are: How old are the Lake Mungo people and how do we know? Why were Mungo Lady and Mungo Man buried in these ways? What was life at Lake Mungo like? What should be done with the Lake Mungo human remains? A variety of lesson plans and activities help students to understand what Lake Mungo was, and how it became what it is today.
An interactive entitled, Can you protect Lake Mungo, is also available and is also a great geography activity.
Case Study lesson plan structure:
Teacher's Guide
Focus Question 1: What do archaeologists do?
Understanding some simple steps in the archaeological process
Focus Question 2: What do we know about Lake Mungo – Place, Time, Environment and people?
Exploring where Lake Mungo is and what the environment is like
Focus Question 3: Why were Mungo Lady and Mungo man buried in these ways?
Exploring possible reasons why the remains were buried in particular ways
Focus Question 4: How old are the Lake Mungo people? How do we know?
Investigating various dating methods and their reliability in relation to Lake Mungo remains 
Focus Question 5: How were lunettes formed?
Understanding why the human remains were found where they were
Focus Question 6: What happened to the megafauna at Lake Mungo?
Explores the debate over the extinction of the megafauna
Focus Question 7: What was life like at Lake Mungo?
Explores the nature of life for the people of Lake Mungo
Focus Question 8: What should be done with the Lake Mungo human remains?
Examines the points of view held about this question
Focus Question 9: How has the environment changed over time at Lake Mungo?
Examines the sequence of environmental changes at Lake Mungo
Focus Question 10: How has Lake Mungo been represented in art?
Explores the nature and purpose of different artworks
Focus Question 11: What would the Lake Mungo people tell us?
An imaginative student exercise