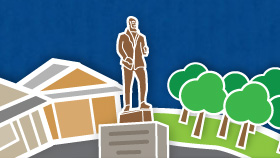 We've made planning your Australian history lessons easy with our rich online resources for Year 2 students. The Australian History Mysteries primary website includes a range of interactive case studies that have been designed specifically around the Australian Curriculum: history as outlined below:
Concepts for developing understanding
The content in the history sub-strand provides opportunities for students to develop historical understanding through key concepts including continuity and change, cause and effect, perspectives, empathy and significance. Through studies of their local area, students explore, recognise and appreciate the history of their community. Students examine remains of the past and consider why they should be preserved (significance, cause and effect, perspectives). They examine the impact of technology of people's lives (continuity and change, cause and effect), and speculate about people's lives in the past to further develop their understanding that people lived differently in the past (continuity and change, perspectives, empathy).
Inquiry Questions
What aspects of the past can you see today? What do they tell us?
What remains of the past are important to the local community? Why?
How have changes in technology shaped our daily life?
The history of a significant person, building, site and/or part of the natural environment in the local community and what it reveals about the past (ACHASSK044 – Scootle )
The Australian History Mysteries case studies include myriad simple lessons/activities suitable for a variety of learning abilities. You simply need to introduce the lesson/activities to your students, encourage them to tackle the group or individual tasks and assess their progress.
Year 2 Case Studies focus on The Past in the Present as set out in the national curriculum. Specific activities/lessons include:
How does a community remember its past?
Summarise your findings
Which events of the past are important to you?
How has technology changed over time?
How is modern technology better?
Making a mystery objects display
Make you own time capsule
Past and present quiz