This interactive decision-maker is FREE to play online now!
CASE STUDY OVERVIEW
In July 1918 war on the Western Front had been going for nearly four years.
The war had been at a stalemate until the great German offensive in spring had pushed the Allies further west than they had been since August 1914.
The war was entering a new phase – one of dry land not previously churned up by artillery shells and mud. The new front was firm, dry, and mostly open farmland with patches of treed forests not yet destroyed by artillery.
New risks and opportunities existed, if generals knew how to make the most of the new situation.
Did they? One who was about to be tested was the Australian general John Monash. He was about to face the enemy at the little village of Hamel in the Somme River Valley. Would he make good decisions that would help create victory without the slaughter that had been so typical of the Western Front until now?
You are there. You have to advise Monash on what he should do. Will your decisions help the Australians gain an important victory, and at with the minimum of casualties?
Let's see.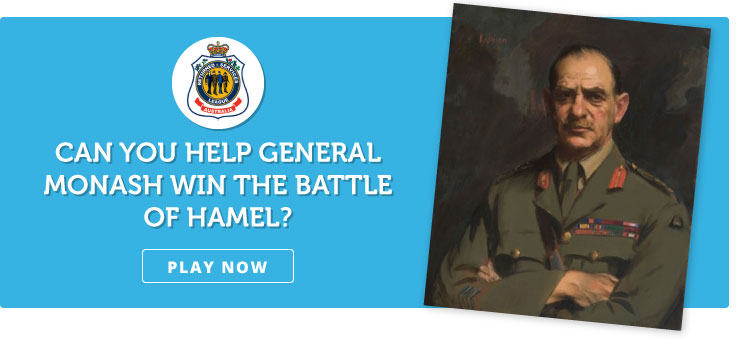 About the interactive
This interactive decision-maker challenges students to make decisions and suggestions based on the Australian Force's strengths and weaknesses that will help win the battle at Hamel as quickly as possible, and with as few casualties as possible.
Students are given information about possible elements of the plan, and then a number of choices. Each choice that they make will win or lose points, according to whether it is the best possible decision.